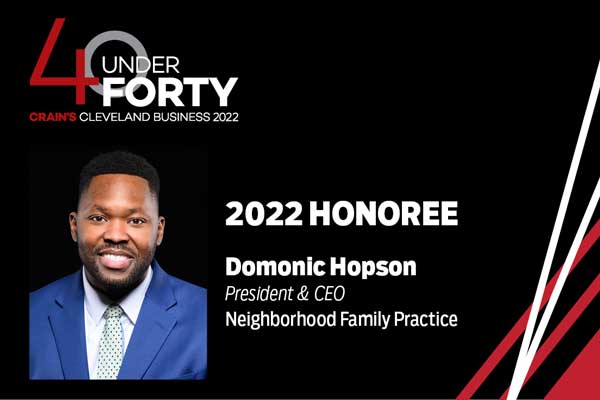 Growing up with public assistance support in Mississippi, Domonic Hopson learned an early and personal lesson about the importance of accessible health care.
He wasn't yet old enough to drive when his mother asked him to look at a tooth causing her severe pain.
"My brother and I always had insurance, but my mother wasn't covered," said Hopson, 34, president and CEO of Neighborhood Family Practice since May. "I could see straight through the top of the tooth. There was no cap. She had no dental insurance, and here was the result.
"I think it had an impact as far as building a path. Certainly my graduate degree aligned with that earlier life experience."
A master of public health degree from the University of Southern Mississippi led Hopson to a therapist position with the Department of Veterans Affairs and later VA leadership roles in Tennessee, Kentucky and Mississippi.
Hopson was most recently CEO of City of Cincinnati Primary Care and assistant commissioner of the Cincinnati Health Department, where he quickly developed critical partnerships. One early example was a new community health center in nearby Avondale.
"It was a primary care desert," said Dr. Nita Walker, who at the time was senior vice president of ambulatory operations at UC Health. "One of the largest African American communities in Cincinnati. It would not have happened without him."
Walker was impressed with the work of "a young man coming to a new city," especially because it required Hopson to navigate a complicated political landscape. So impressed that Walker wasn't surprised when NFP named Hopson as CEO.
"That was a huge win for (NFP),"  Walker said. "He's an intuitive leader and wise beyond his years."
Neighborhood Family Practice provides primary and preventative care for nearly 20,000 patients annually from 12 west side neighborhoods. It's the only provider of health screenings for refugees arriving in Cuyahoga County.
"We don't turn anybody away," said Hopson, who lives in Cleveland's Battery Park neighborhood with his wife, Vivian, a nurse practitioner.
Some career paths are revealed later in life. Hopson's presented itself early. Full speed ahead has been the operating mode ever since.
— Bud Shaw