The Neighborhood Family Practice pharmacy program…
NFP is proud to offer pharmacy services to our patients to assist you with meeting your health needs. Our pharmacists and pharmacy technicians have direct contact with your provider and care team to ensure you are on the safest, most cost-effective and convenient medications for you.
Convenient Locations and Free Home Delivery
NFP has two on-site pharmacy locations at Ridge and Puritas Community Health Centers.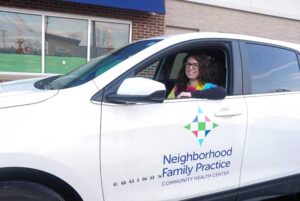 Or we can bring your medication to you via free home delivery by calling us at (216) 961-2085.
NFP Pharmacy Services:
When you choose an NFP pharmacy for your prescription medication needs, you have access to a variety of benefits and services including:
Refills by phone, online, or mobile app
vMedication synchronization for long-term prescriptions (Sync Your Meds)
Chronic disease management
Medication delivery
Pharmacist explanation and review of your prescriptions
Automated notifications when prescriptions are ready for pick-up
Multiple convenient locations
Ability to print medication labels in over 100 languages
Neighborhood Family Practice Pharmacy locations:
Ridge Community Health Center Pharmacy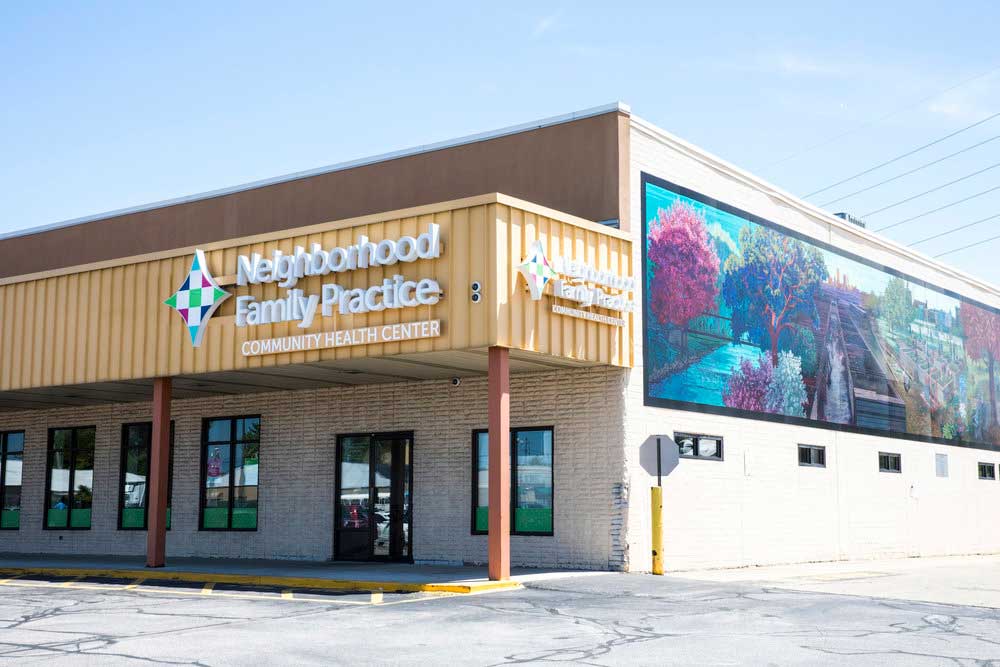 3569 Ridge Road, Cleveland, OH 44102
(corner of Ridge and Denison, next to Dave's Mercado)
216.961.2005
Pharmacy Hours:
Monday – Friday: 8:30 a.m. — 5 p.m.
Closed Saturday
Closed Sunday
Puritas Community Health Center Pharmacy
14625 Puritas Avenue, Cleveland, OH 44135
(located inside of our Puritas Community Health Center)
216.961.2085
Pharmacy Hours:
Monday, Wednesday, Thursday: 9 a.m. – 5 p.m.
Tuesday & Friday: 9 a.m. – 4 p.m.
Closed Saturday
Closed Sunday
Simplify your life with
Sync Your Meds
Easy! Convenient! Free!
Neighborhood Family Practice is pleased to offer a new way for you to have your long-term prescriptions filled the same day each month. Medication Synchronization (Med Sync for short) is a simple way to manage your prescriptions.
Benefits include:
Fewer trips to the pharmacy
Never running out of the medications you need for your best health
Monthly reviews of your prescriptions by a pharmacist
No need to remember to call in your prescription refills
This program is available at both of our pharmacy locations and through our free home delivery service.
For more information or to sign up, please call:
Ridge Community Health Center Pharmacy: 216.961.2005
Important Information for Existing NFP Patients Who Are Pharmacy Customers:
NFP pharmacies accept Medicaid, Medicare, and most health insurance plans.
Patients with Prescription Coverage
If you have prescription coverage through your health insurance, NFP must apply your insurance to the cost of the prescription first. You pay the same price as usual for medications purchased at an NFP or partner pharmacy, but your purchase through the 340B program helps us provide medications to patients without health insurance or those with insurance who need additional support.
Patients without Prescription Coverage
If you do not have insurance or have difficulty paying for your medications, NFP provides existing patients with financial assistance for prescriptions at NFP pharmacies. Additional financial assistance for prescriptions is available to NFP patients based on income qualifications. To find out if you qualify for financial assistance, please make an appointment with patient financial services by calling 216.281.0872, ext. 2020.
Helping our Neighbors – 340B Drug Pricing Program
NFP offers the 340B drug pricing program. This federal program provides eligible health care providers, like NFP, with access to outpatient drugs at reduced prices. Both NFP pharmacy locations participate in the 340B drug pricing program.
By purchasing medications at a lower cost, NFP is also able to use the additional savings to help our neighbors with services that insurance may not cover, or for which funding is limited, including:
Language interpretation

Transportation

Patient advocates to assist patients with social services

Patient education

Staff education

Sliding fee discounts

Quality initiatives

Medication adherence assistance
NFP is dedicated to partnering with our community for everyone's best health by providing high quality health care services regardless of ability to pay. We welcome new patients and look forward to caring
Meet our Pharmacists